News archive
Every user required to verify mobile number enable to post listing to juantambayan.com.
A 4-PIN code will be sent to your phone via SMS. Enter the 4-digit PIN to verify your account. 
2020-02-12 05:43
Server Maintenance Advisory:
We are having a scheduled server maintenance from 8:00 PM August 23, 2019 to 6:00AM August 24, 2019, Web and Email will not be accessible during the maintenance.
We apologize for the in convenience and thank you for understanding.
2019-08-23 08:57
As part of our effort to improve juantambayan you may experience some bug and functionality error on our user dashboard.
Updates:
1. Some missing listing has been fix and  Manage Listing issue already fix.
2. Reposting Ads Error Resolve.
3. New Premium Feature Updated: You can now add multiple listing to boost and checkout.
4. Wallet Pack Updated with Bunos
5. GCASH Payment Accepted
 6. Side Menu Navigation Fix
For any site related issue please send us your concert to support@juantambayan.com
2018-10-18 19:00
Bug has been fix regarding wrong item re-posted. 
Thank you to Eng. Pornobi reposting the issue
2017-08-11 20:52
Reposting ads issue is now resolve. 
2017-08-06 23:59
We are currently fixing issue with repost button. 
2017-08-05 08:13
Hi everyJuan,
Our facebook login already fix.
Thank you and God Bless EveryJuan!
2017-04-11 06:04
Login with Facebook  currently unvailable we are currently updating our API  with the latest facebook SDK.
2017-03-31 04:03
We've identified and fixed the problem
:) We're not expecting any more server performance issues.
2017-02-16 10:08
Last week, Yahoo disclosed that 1 billion user accounts were compromised in 2013. Not only is this the largest breach ever disclosed, it's larger than the next nine non-Yahoo breaches combined.

Breaches of this scale harm not only Yahoo, but your personal information, bank account, social media account and others important details that your are using Yahoo as your primary email.
To secure your Yahoo Account change your password, reset questions and answers. If you have the option, you should also enable two-step verification for added security.
Another option is to use GMAIL or HOTMAIL as your primary email.
2016-12-22 19:40
Your customer can now sends a Message, Inquiry or Note, or a recipient responds to your message, alert will be sent to your email address for the conversations. 
When you receive a message in your email inbox, you can choose to reply to the message by regular email (or you can reply on your JuanTambayan  Account via your Messages Center).  Your reply will not reveal your email address, unless you leave your email address in the body of the message.
2016-10-27 05:45
Hi EveryJuan!
Our data center currently conducting a Network Maintennace expect intermittent connection  accessing our site.
Maraming Salamat po!
2016-07-13 15:52
Hi everyJuan,
Dashboard updated for Daily Listing Insight to track your listing daily views.
Login to your account to check our new feature:
2016-04-09 13:47
Hi everyJuan!,
Our system having an issue with sending email inquiry to publisher due to server changes,  we're doing our best to restore back the system asap.
Sorry for the inconvenience..
2016-04-02 16:09
For more information about keeping our site family-safe, please review our Guidelines.
This includes fetish content as well as sites that promote, selling sexual aids.
Examples include, but are not limited to:
sexual fixations or practices that may be considered unconventional
sexual aids or enhancement tools such as vibrators, dildos, lubes, sex games, inflatable toys
penis and breast enlargement tools
Maraming Salamat po!
2016-02-08 22:59
Thank you for Donating and Sponsoring JuanTambayan to keep us Live!
List of our Sponsors:
http://www.juantambayan.com/a/sponsors
More information:
List of our Sponsors
2016-01-11 02:32
We will conducting a system maintence for update.
Maraming Salamat po!
2015-11-25 18:25
System and Server maintenance on 10-5-2015 from 12am to 5am. 
2015-10-04 19:42
Paalala:
Sa lahat po na nagbebenta ng mga sasakya, we rerequired na mag lagay po kayo ng contact number sa inyong profile.
Vehicle listing without contact information will be deleted from our system.
Maraming salamat po!
2015-09-01 22:15
Hi,
System Maintenance completed, issue fix with publishing listing.
Maraming Salamat!
2015-08-08 21:21
Hi everyJuan!
Reminder lang po sa lahat, Please avoid publishing duplicate listing po we have a REPOST naman po every 7days.
Posting Duplicate Listing is not guarantee para makita ang listing po ninyo, we are avoiding getting penalize by google for spam and duplicate content.
80% of Inquiry and Traffic is comming from GOOGLE and other Search Engine, we are doing our best po para ma optimize ang site  for SEO, sa inyo po nakasalalay ang Success at Future ng site na ito.
Maraming Salamat Po! 
2015-07-30 16:47
Our New Premium Featured Listing Badge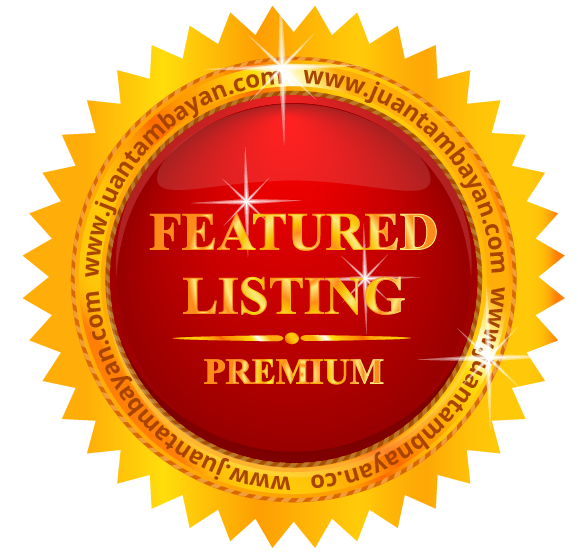 2015-07-16 19:23
Hi EveryJuan!,
A Scheduled Maintenance is due to be performed as outlined below.
On 06/24/2015 we will be performing a maintenance that will affect our power in cabinet, we expect juantambayan servers will experience a loss of power during the repairs to the PDB (Power Distribution Board).
2015-06-16 18:31
Hi, Please to annouce our new feedback system
2015-05-20 19:53
Hi EveryJuan!
Due to User Request our minimum Premium Ads will cost Php100.00 for 100days.
Maraming Salamat po!
2015-05-10 14:42
A New Profile Page for EveryJuan!
2015-05-03 18:22
Hi everyJuan!
Photo profile error is now fix!
Please submit a report if you are experiencing any error!
Maramining Salamat!
Admin
2015-04-01 16:37
Hi everyJuan!
We always wanted to improve JuanTambayan our Help Center is a place where you can find tips and tutorials on how to use JuanTambayan, for those users who want to volunteer improving our help center content please click "Add new FAQ" together with your Name and Email. 
All FAQ's submitted is subject for Review.
Maraming pong salamat!
2015-03-28 00:58
Dear EveryJuan,
 
We are currently working to fix profile picture.
We will give an update once the issue is fix
 
Kind Regards, 

Juan Tambayan
Admin
2015-03-27 13:34
Hi everyJuan,

System fix for posting ads redirecting to referral page!

Thank you for reporting the issue.
2015-03-27 13:31