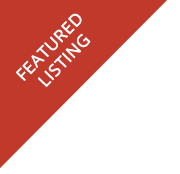 A fire lookout, also referred to as a fire watcher, is a person assigned the duty to look for fire from atop a building known as a fire lookout tower. These towers are used in remote areas, normally on mountain tops with high elevation and a good view of the surrounding terrain, to spot smoke caused by a wildfire.
Hot work is defined as cutting and welding operations for construction and or demolition activities that involve the use of portable gas or arc welding equipment, or involve soldering, grinding, or any other similar activities producing a spark, flame, or heat. Firewatchers must be trained. Workers engaged in hot works must be trained. Value human life, your life, and sustain business operations of your company.
Be Safe, Train Now.
There is a short discussion on hot works safety when you attend Cosh training. However, it is not that comprehensive. If you want to attend Cosh because you have not done so, let us know. We facilitate Cosh Construction Occupational Safety and Health training or Bosh Basic Osh in Quezon City, Caloocan City, San Fernando Pampanga, and Tarlac City. Submit an inquiry for Bosh Cosh
Our Trainer-Resource Person for Fire Watchers Training are DOLE Accredited Occupational Safety and Health Practitioners or DOLE Accredited Occupational Safety and Health Consultants. They are subject matter experts.
October 25
November 15
Registration Fee
Registration Includes
Certificate of Completion
Issued by:
iBonrop Occupational Safety and Health Training Services
SIgned by: Dole Accredited Osh Practitioner or Dole Accredited Osh Consultant
Lunch. Handouts. Free water
Free coffee. Free consultation
PhP 1,000 discount when you attend any of our scheduled Dole Prescribed Accredited Training for Safety Officers. Bosh Training, Cosh Training, Lcm Training, Tot Training, So1, So2, So3, So4. Ask us for schedules and venues available. This cash discount is valid 3 months after graduating from this Fire Watchers Training.
Who Should Attend
Primary, for Fire Watchers, Hot Works Worker, Welders, Safety Officers, Safety Crew, Safety Marshall

Secondary, for learning purposes, Safety Manager, Safety Director, Project Manager, Plant Manager, Supervisors, Health and Safety Committee Members, Engineering students, Civil Engineers, Structural Engineers
How to Pay Registration Fee
Cash. If check, pay to iBonrop Occupational Safety and Health Training Services
1. Bank Deposit or Online Fund Transfer. BDO Acct No. 0000 1028 4788. BPI Acct No. 0123 4764 84. Metrobank Acct No. 020 3 020 36 720 3. For recording, email proof of payment to ibonrop@gmail.com or Viber 09173126720

2. Pay at our office in Cubao, Quezon City. Monday to Saturday. 8:00 AM - 5:30 PM. Saturday by appoinment.
3. Western Union or Palawan Express. Name. Ronald Pornobi. Address. Cubao, Quezon City. Please text email details - control number, name of sender, amount sent - to 09173126720
We issue Official Receipt.

To you our dear clients and stakeholders. We hope for your understanding and consideration.
We had experiences from individuals and companies inquiring about this training. They register their participants, but does not pay the reservation fee required to save slot. Then on the training day 1, its a No Show of the participant registered. Regrettably, the participant nor the company did not advise in advance that their participant will not show up or will not attend, for any or no reason. These has caused us losses in facilitating the training due to No Show Registered Participants. Therefore, our management decided to implement this policy (read image below) on slot reservation or securing a seat for the trainee participant. So if your participant is sure to attend, pay the registration fee. If not sure, please do not register your participant yet so we have a real headcount of sure attending participants. Thank you for understanding and cooperation.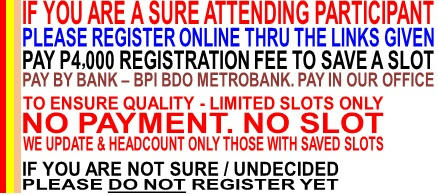 God bless you, your family, and your company.

Thank you very much.
Ronald Pornobi
General Manager

Globe 0917 312 6720 Smart 0918 946 4623
Pldt Landline 02 - 8939 2728 in Quezon City
Pldt Landline 045 - 981 5682 in Pampanga
Email ibonrop@gmail.com
Submit Your Training Registration Form