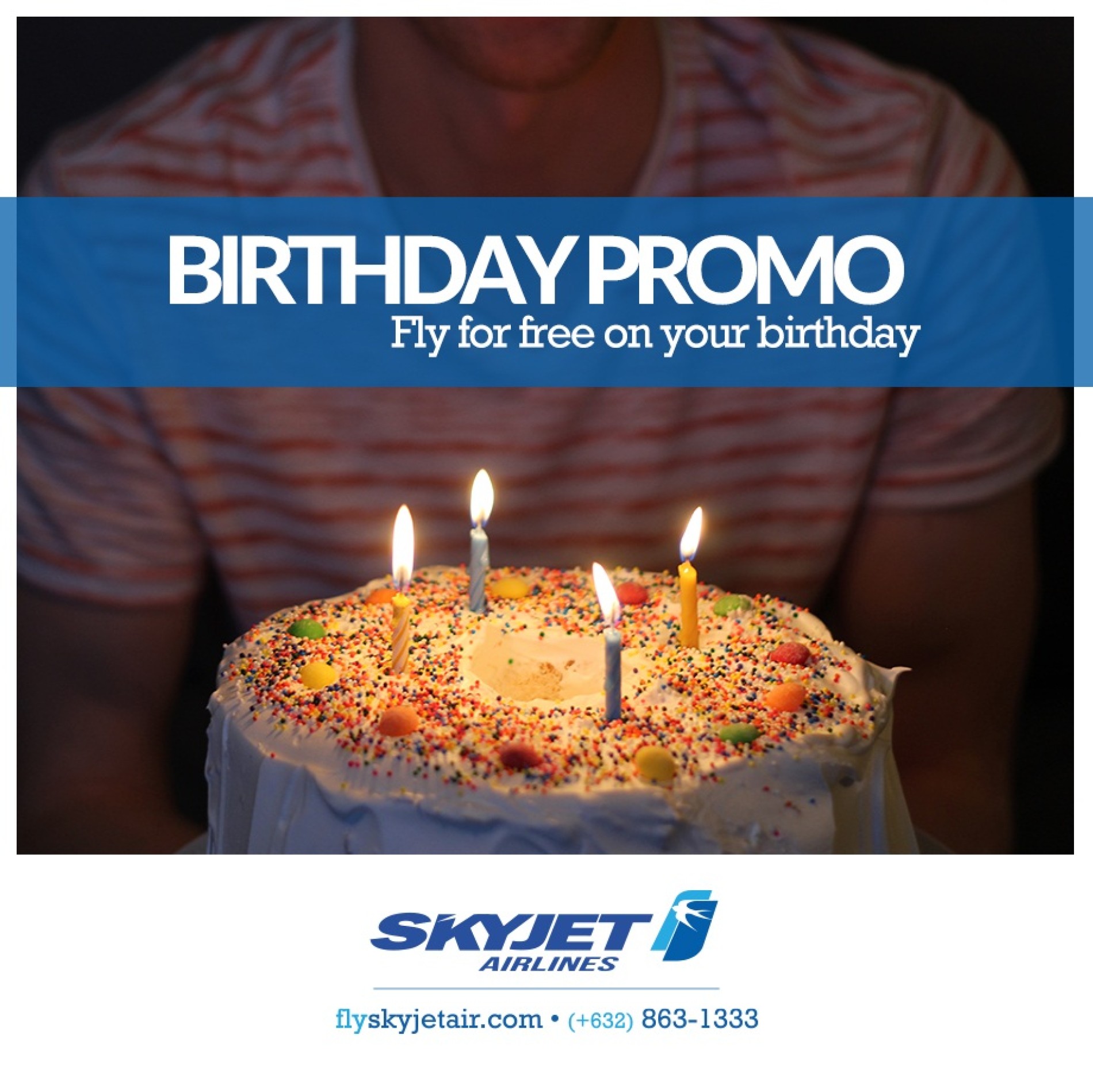 SKYJET Airlines Birthday Promo FREE fly for on your Birthday
Mechanics:
• Birthday celebrant of all ages can avail the birthday promo on the day itself of their birthday month.
• Celebrants can avail of the ONE-WAY FREE OF CHARGE exclusive of DPSC & ASF tickets provided with the following conditions:
A. Celebrant must be booked and ticketed as ROUNDTRIP
i. Travelling with different onward and / or return flight date, subject to fare availability
ii. FREE OF CHARGE if the return flight will be on the day itself of their birthday
B. Must be accompanied by One Full Paying Passenger (One-way or Roundtrip)
i. Must be booked and travelled together with the celebrant
ii. One Full Paying Passenger, airfare will be based on sysytem availability
• Bookings and reservation must be at least 7 days before the birthday
• Birthday Celebrant and the accompanied Paying Passenger must be booked and paid on the same date
• Point of origin can be from Manila or from any of the SKYJET destinations.
• Requirements for Celebrants: Celebrant must bring an original and valid government issued picture I.D with the birth date imprinted on it, both local and foreign I.D's are accepted, for proof such as (SSS, NBI, Driver's license, PAGIBIG, Passport) In the case that the celebrant doesn't have a government issued picture I.D., he/she may bring his/her birth certificate supported by any picture I.D. (school I.D., parent's I.D., company I.D.).
• This promo can't be used in conjunction with our fixed and special promo and discounts.
• Payment can only be made in all SKYJET organic ticketing offices. Reservations can only be made thru (+632) 863-1333.
• Not Applicable to ONLINE Transactions.
• Celebrants Free of Charge ticket is valid on specified date only with restrictions: NON TRANSFERABLE / NON REROUTABLE / NON ENDORSABLE / NON REBOOKABLE / NON CONVERTIBLE TO CASH
• Gift Certificates will not be honored with this promo.
• This promo is available until Dec 31, 2017. Promo is valid during peak dates.
VISIT :  https://www.flyskyjetair.com/article/birthday-promo/
A celebration which marks the establishment of South Cotabato as a province, T'nalak Festival is the biggest and most colorful event in South Cotabato held every year. The week-long celebration
Cebu Pacific offers various promotional fares, including the Peso Fare, which allows passengers to book flights for as low as PHP 1 Sale Period is from Mar 20 to 23,
SALE PERIOD: UP TO JUL 13, 2017 OR UNTIL SEATS LAST | TRAVEL PERIOD: AUG 1 – OCT 31, 2017 CLICK HERE TO VISIT CEBU PACIFIC PROMOs For as low