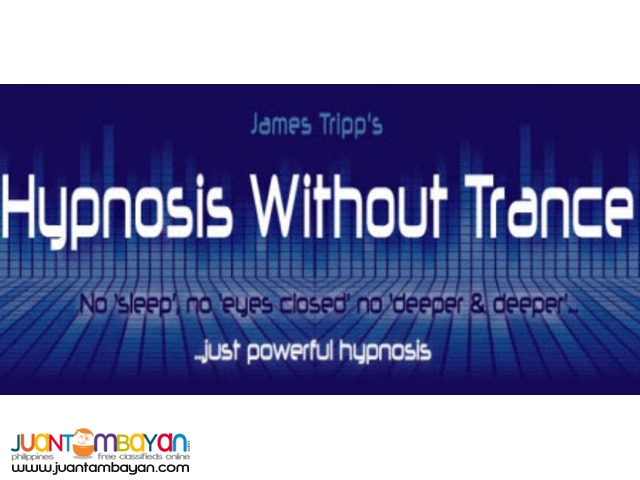 James Tripp – HWT – Hypnosis Without Trance
Hypnosis Without Trance – Hypnosis for the 21st Century! Hypnosis Without Trance is a new and contemporary approach to hypnosis that dispenses with the myth and mystery of 'old-school' trance rituals in favour of clear precision-based processes that allow for the elicitation of hypnotic phenomena without the need for 'altered-states'. If you are a hypnotist or student of hypnosis who wants to consistantly get clear and functional hypnotic phenomena without having to trust to luck or take any leaps of faith…
Hypnosis Mastery Programme! 10 Disc Home Study ProgrammeA comprehensive course teaching powerful precision hypnosis… without trance!
* Imagine being able to elicit powerful hypnotic phenomena… altering peoples realities hypnotically without any need to first induce trance.
* How about being able to take people directly into hypnotic experiences so vivid that there will be no question whatsoever of your abilities as a hypnotist.
With the Hypnosis Without Trance Hypnosis Mastery Programme you can become a real hypnotist, hypnotising with confidence, style and precision…
…without having to spend thousands of pounds or dollars!
Are you ready for this?
Before you read on: Some solid facts about Hypnosis …and why you shouldn't even think about learning more until you read every word on this page!
1. Hypnosis is a genuine real world phenomenon!
2. Hypnosis can shift people's perceptions of reality in almost limitless ways!
3. Hypnosis has nothing whatsoever to do with trance or special states of consciousness!!!
Dear Hypnotist (or Hypnotist to be!)
First of all, thank you for visiting this site and taking the time to further your education about hypnosis. I hope you have had a chance to look around and check out the Blog and testimonials – if you have you will already know something of the quality and power of the Hypnosis Without Trance approach, and may well have already decided to learn it.
Obviously, the very fact that you are here and reading this means that you are already interested in learning more deeply about hypnosis. My hope would be that you have both high standards and high aspirations in this area, with a goal is to learn hypnosis fully and become a truly great hypnotist.
I hope that this is so because hypnosis is a wonderful art and deserves to be practised at the highest levels of skill and elegance!
If I am right about you, and your desire to learn and be truly excellent, then it stands to reason that as a hypnotist you will want to be able to do the following:


Hypnotise quickly and easily.


Successfully and convincingly elicit strong hypnotic phenomena (catalepsy, amnesia, hallucination etc.).


Effectively utilise the true 'mechanisms' of hypnosis and avoid outdated 'folklore'.


Be capable enough to work with a range of subjects across a range of contexts.


But here's the thing…


Hypnotists who can really do these things are actually quite rare! And what's more, it mostly isn't their fault!
The problem lies in what they were taught – an approach to hypnosis based in outdated methods and myths.
The truth is that most hypnotists (99+% at a guess) rely on unnecessary 'trance' inductions! And many (including most professionally trained hypnotherapists) do not really know how to elicit genuine hypnotic phenomena (mistakenly thinking that 'trance' is the hypnosis itself).
If you have had a good look around this site you will already know that Hypnosis Without Trance is different – it is a modern and effective take on hypnosis that enables the practitioner to directly elicit powerful hypnotic phenomena – literally changing the subjects reality – without any need for trance induction or deepening whatsoever.
This is important, because…
…trance is a red herring!
9 times out of 10, chasing trance actually makes it more difficult to get the hypnotic phenomena that you want!
Hypnosis Without Trance recognises this, and as such teaches a skillset that enables you to take people directly and precisely into vivid hypnotic experiences, instead of into an unnecessary altered state that doesn't relate to that experience. But this stuff isn't like that…
…this stuff is the real deal!
"Brilliant and revolutionary! Hypnosis Without Trance has totally changed the way I look at things…"
Alan Whitton – Hypnotherapist and NLP Coach, creator of Fighter's Mind
"A superb and well developed approach – the most impressive I've ever seen!"
Robert Whittington – Hypnotist and Hypnotherapist
"James… You are a member of an elite circle of hypnosis trainers – you're the real deal."
Michael Watson – NLP Master Practitioner and Trainer of Hypnosis and NLP
"This material has taught me more about Hypnosis than my previous 20 years in Psychology and 4 years as a practicing Hypnotherapist. Hypnotherapists are sometimes very scathing of this stuff, perhaps scared at what they might accomplish! This material should be a standard requirement for ANY Hypnotist wanting to bring about real change work. Everything is demonstrated without anything held back and explained in finest detail, to satisfy all learning styles. If you don't learn this stuff you will be left behind!"
Michael Skirving – DNLP, DHyp, LAPHP West Mids
What Else?
O.K. Hopefully I have said as much as I need to (I certainly don't want this to turn into one of those horribly long 'sales letters') on Hypnosis Without Trance as an approach. Really the best way to get a sense of it is to watch the videos on the blog (I have put a few videos further down the page so as you can get a good sense of what it is like, what it's about and what can be done with it).
But it is probably a good idea to say something about what you will get when you buy the programme!
The short answer is: The Hypnosis Without Trance, Hypnosis Mastery Programme is a comprehensive hypnosis learning resource.
The content is delivered with clarity and precision across 3 different media formats to increase the ease and rate of learning. The material is of the highest quality, teaching exclusive HWT insights and skills that get hypnosis happening fast. This programme is recognised by both top hypnotists and beginners alike as being one of the best (rated by some as the best) packages for learning hypnosis available in the market today. It is all cutting edge, and all '21st century'. Essentially…
…there is no other Hypnosis Learning Programme anything like this available anywhere else!
Text us for more details and titles. Thank you
- Alphastoreph.com
Tips for Online Transactions
Avoid scams by acting locally or paying with PayPal, Bank Deposit, LBC, or Pera Padala without the item.
Never pay with anonymous payment services
Don't buy or sell outside of your country. Don't accept cheques
This site is never involved in any transaction, and does not handle payments, shipping, guarantee transactions, provide escrow services, or offer "buyer protection" or "seller certification"